Sexual Harassment
Society, as a whole, has come a long way since the days when the "boys will be boys" mentality dominated the discussion of sexual harassment in the workplace. Unfortunately, many individual employers have not come along with it. If you are being harassed or subjected to demeaning comments related to your gender at work, contact an employment lawyer at our New Jersey law offices.
Sexual harassment may involve:
Inappropriate touching
Lewd behavior or comments
Solicitations
Threats
Discrimination
Retaliation
Wrongful termination
Whether you have been threatened to be fired by a supervisor unless you submit to sexual advances or overtures or you are being harassed by a coworker, we will provide you with an experienced attorney who will personally manage every aspect of researching and preparing your case. However, it is important to discuss the situation with a lawyer and to start documenting and/or reporting any misconduct as soon as possible.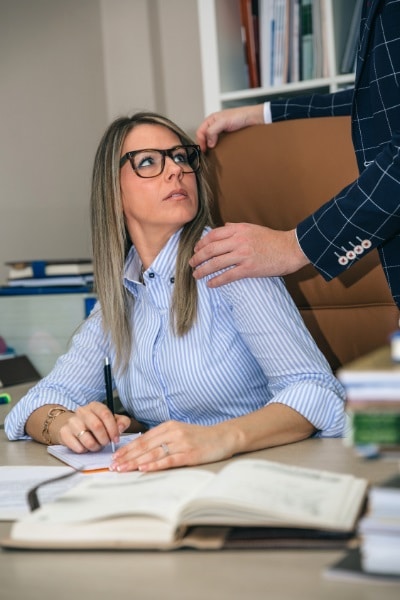 You Have Rights...
Together we can Protect Them!
Main Office
Three University Plaza
Suite 410-4th Floor
Hackensack, NJ 07601
Office:
(201) 488-2600
New Jersey Office
648 Newark Avenue,
Jersey City, NJ 07306
Phone:
(201) 656-5232
Main Office: Three University Plaza | Suite 410-4th Floor | Hackensack, New Jersey | 07601
Office: (201) 488-2600 | Fax: (201) 488-5059 | Email Us
© 2020 Goldman Davis Krumholz & Dillon, P.C. | All Rights Reserved.
Disclaimer | Site Map |Privacy Policy
With offices in Hackensack, New Jersey and Jersey City, New Jersey, the experienced civil litigation attorneys of Goldman Davis Krumholz & Dillon, P.C., serve all of Bergen County, Hudson County and surrounding communities, including Teaneck, Maywood, Bogota, Lodi, Fort Lee, Passaic, Englewood, Garfield, Elmwood Park, Clifton and Saddle Brook.
Business Development Solutions by Web and Cloud for Law Firms