GOLDMAN DAVIS KRUMHOLZ & DILLON


SERVING HACKENSACK & JERSEY CITY AREAS
Workers' Compensation
Our workers' compensation attorneys are here to help if you have been injured on the job. There are many areas of your life a work-related injury can affect. Being out of work can cause many hardships on a family which just adds more worry and frustration on top of the pain of the injury.
Injuries happen at work or even while running an errand for the boss. You may be eligible for medical expenses, wage loss replacement, and other benefits, including payment, for your permanent injury. You have the right to file a claim—no matter who told you differently.
At Goldman Davis Krumholz & Dillon, P.C., our workers' compensation attorneys represent injured workers of all types in Bergen and Hudson Counties and throughout New Jersey. We offer a comprehensive range of legal services in matters ranging from work accident cases to retaliatory firings and repetitive stress syndrome. We appear in workers' compensation courts every day to obtain benefits for our clients.
Workers' compensation benefits you may be entitled to after an injury include:
Medical benefits – 100 percent coverage for all necessary and reasonable treatment, including prescription medications provided this is authorized by your employer or its insurance company
Temporary total disability benefits – up to 70 percent wage replacement for any disabling job injury lasting more than a week, benefits continue until you are able to return to work or until further medical treatment will not improve your condition
Permanent partial disability benefits – compensation for "scheduled and non-scheduled" losses based upon the type and severity of the job injury
Permanent total disability benefits – up to 70 percent wage replacement lasting a minimum of 450 weeks for workers whose injuries are so severe that they cannot hold any gainful employment
Death benefits – funeral expenses and up to 70 percent wage replacement for dependents of deceased workers and a payment towards funeral expenses
Over Half a Century Dedicated to Employee Rights
We understand the emotional, physical and financial price you pay when suffering from a work injury. We are here to help you get the compensation you need and deserve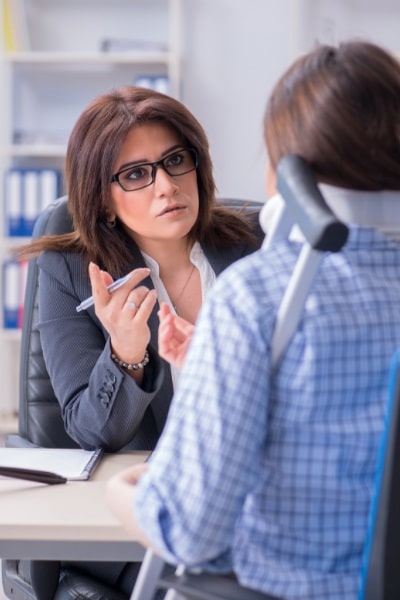 You Have Rights...
Together we can Protect Them!
Main Office
Three University Plaza
Suite 410-4th Floor
Hackensack, NJ 07601
Office:
(201) 488-2600
New Jersey Office
648 Newark Avenue,
Jersey City, NJ 07306
Phone:
(201) 656-5232
Main Office: Three University Plaza | Suite 410-4th Floor | Hackensack, New Jersey | 07601
Office: (201) 488-2600 | Fax: (201) 488-5059 | Email Us
© 2020 Goldman Davis Krumholz & Dillon, P.C. | All Rights Reserved.
Disclaimer | Site Map |Privacy Policy
With offices in Hackensack, New Jersey and Jersey City, New Jersey, the experienced civil litigation attorneys of Goldman Davis Krumholz & Dillon, P.C., serve all of Bergen County, Hudson County and surrounding communities, including Teaneck, Maywood, Bogota, Lodi, Fort Lee, Passaic, Englewood, Garfield, Elmwood Park, Clifton and Saddle Brook.
Business Development Solutions by Web and Cloud for Law Firms